We've carefully crafted and sourced an excellent range of wines and drinks,
so whatever your tipple, we're sure to have something for everyone.
RIPE AND FRUITY – JUICY WITH MORE STRUCTURE,PERFECT WITH WHITE RICH MEAT
Conde Villar Vinho Verde Branco, Portugal
Very fresh, with a slight spritz and bags of lemon and mango fruit.
Vivanco Rioja Blanco, Spain
Really fresh and invigorating with intense and elegant aromas of green apple, citrus fruits, pineapple and some floral hints.
The Old Press Chardonnay, Australia
Juicy, sun-packed Australian wine with peach & tropical fruit.
The Spee'wah Crooked Mick Viognier, Australia
Apricot and nectarine with ripe lychee flavours and a citrus twist on the finish.
La Chablisienne Petit Chablis Vibrant, France
Flavours of citrus fruits, mixed with floral aromas such as jasmine and elderflower.
24.95
23.95
4.75
6.25
12.50
18.50
27.95
35.95
175ml/ 250ml/ 500ml Carafe/Bottle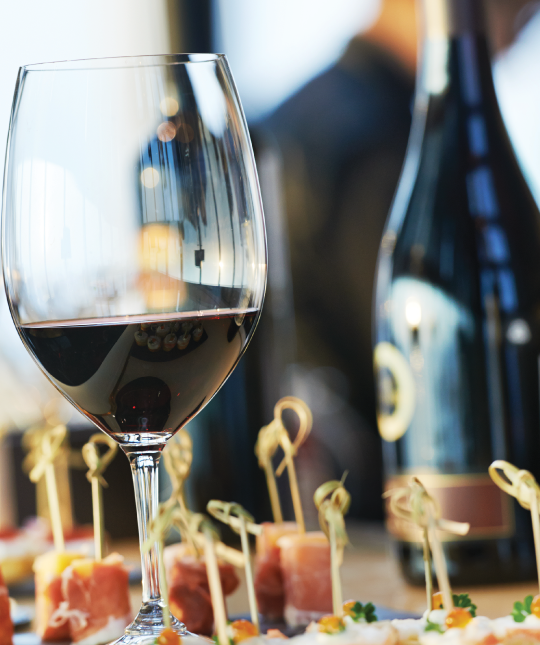 All vintages are subject to availability
175ml/ 250ml/ 500ml Carafe/Bottle
SMOOTH AND JUICY – FRUITY RED WITH SOFT TANNINS,GREAT WITH LIGHTER DISHES.
LIGHT AND BRIGHT – PERFECT APERITIFS.
SUPER SAUVIGNON – AROMATIC AND ZESTY, DELICIOUS WITH FISH AND SEAFOOD.
SOMETHING DIFFERENT – TRY SOMETHING DIFFERENT WITH THESE QUIRKY WINES.
OLD WORLD CLASSICS – ELEGANT WINES WITH EARTHY FLAVOURS, PERFECT WITH GAME
The Old Press Shiraz, Australia
Classic Aussie shiraz plum,
red berry vanilla.
Ponte Miliano Sangiovese, Italy
A classic Italian red, this wine has aromas and flavours of red cherry, raspberry and vanilla. It's medium-bodied, and refreshing on the finish.
Alto Bajo Merlot, Chile
Soft, juicy and extremely
quaffable.
Moonriver Danube Pinot Noir, Hungary
Light bodied, fresh, fruity Pinot from Hungary.
La P icoutine Carignan Grenache Vin de France, France. A soft, full-bodied and fruity red wine. Beautifully balanced with good length of flavour.
4.75
6.25
12.50
18.50
20.95
5.75 7.75 15.50
22.95
25.95
24.95
RICH AND SPICY – PERFECT PAIRINGS TO THE GRILL
Castillo Clavijo Rioja Tempranillo, Spain
Sweet and spicy, red fruit compote and earthy richness. Classic Rioja.
Chateau La Croix Ferrandat St-Emilion, France
Plum, bramble jelly and blackcurrant fruit. Soft tannins and a long, fresh finish.
Acacia Tree Pinotage, South Africa
Ripe red berries with a hint of earthiness. Soft and spicy.
The Bulletin Zinfandel, USA
Velvety smooth red with aromas and flavours of dark fruits and hints of warm spice.
Hubert et Fils Cotes du Rhone, France
Aromas of redcurrant, thyme, rosemary, and liquorice. Soft and smooth tannins.
27.95
35.95
4.75
6.25
12.50
18.50
5.50
7.25
14.50
20.95
23.95
SOMETHING SPECIAL – CONCENTRATED, INTENSE REDS FOR RED WINE LOVERS
Vitelli Prosecco NV, Italy
Fruity, fragrant, soft. Peardrops
and lemon.
Belstar Cuvee Rose Sparkling NV, Italy
Fruit, red fruits, cherries, citrus fruits,
slights spicy notes of mint, thyme and
tomato leaves, elegantly floral.
Maury, Regional France
Sweet cherry, bramble and spice.
Perfect with chocolate or stilton.
Chateau di Levant Sauternes, Bordeaux
Dried apricot, honey, vanilla and spice.
Bodegas Alvear Pedro Ximenez Solera
Monilla-Moriles. Intensely sweet, full of spice and toffee. Pour over vanilla ice cream.
5.50
27.00
5.95
28.00
6.20
29.00
7.00
7.00
7.50
7.00
7.50
7.00
7.00
7.50
7.00
7.00
7.50
Winter Berry Mojito
Bacardi Bianca, Soda Water, Fresh Berries
Red Sky
Quince Gin, Raspberry Syrup, Soda Water, Apple Liqueur
Rhubarb Old Fashioned
Warner Edwards Rhubarb Gin, Grapefruit Liqueur, Grapefruit Bitters
French Martini
Vodka, Chambord, Prosecco
Boellini
Boe Gin, Chambord, Prosecco
Classic Magarita
Tequila, Lime, Agave Syrup
Pina Colada
Malibu, Bacardi Bianca, Pineapple Juice,
Coconut Syrup, Cream
Chi Chi
Tanqueray 10, Grapefruit Liqueur, Cointreau, Grapefruit Bitters
Kim Sha
Vodka, Peach Liqueur, Cranberry Juice
Bramble
Gin, Chambord, Lemon, Sugar
Blackforest
Irish Whiskey, Grand Marnier Cherry, Cacao Brown, Chambord
7.50
7.00
7.00
7.00
8.50
8.50
8.50
7.00
7.00
7.00
The George
Botanist Gin, Elderflower, Apple Juice, Sugar, Lemon
Apple Crumble
Zubrowka, Apple Juice, Sugar Gomme, Apple Liqueur
Raspberry Collins
Vodka, Lemon, Raspberry Puree, Lemonade
Chicharito
Malibu, Blue Cachaca, Pineapple Juice, Lemon Juice, Sugar
Kir Royale
Champagne & Chambord
Strawberry Mashtini
Champagne & Strawberry Liqueur
Sevilla Mimosa
Champagne, Tanqeuray Sevilla & Orange Juice
P.S. I Love You
Baileys, Amarreto, Rum, Kahlua, Cream
White Chocolate Orange
Cacao White, Baileys, Cointreau, Cream
Lemon Cheesecake
Limoncello, Lemon Juice, Gingerbread, Hazelnut, Cinnamon, Cream
IF YOU ARE LOOKING FOR A COCKTAIL THAT IS NOT ON THIS LIST, ASK THE BARTENDER, THEY WILL BE HAPPY TO HELP.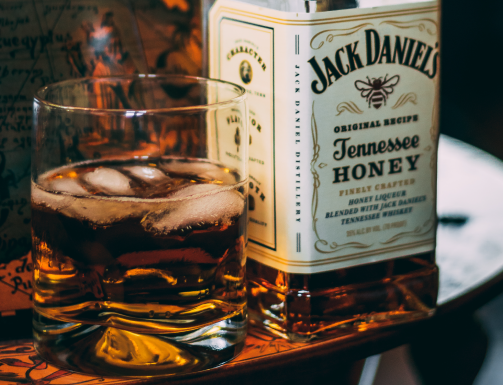 Crystal Head
Absolut
Grey Goose
Grey Goose Pear
Grey Goose Orange
Belvedere
Belvedere Grapefruit
Ciroc Apple
Ciroc Redberry
Chase
Chase Rhubarb
Chase Marmalade
Coca Cola
200ml
Diet Coca Cola
200ml
Pepsi
Diet Pepsi
Appletiser
Selection of Juices
Hildon Sparkling & Still Water
750ml / 300ml
Fevertree Tonic
200ml
Fevertree Elderflower Tonic
200ml
San Pellegrino Limonata​
Passionfruit Cooler
Orange Juice, Passion Fruit, Grenadine
Summer Sling
Strawberries, Lemon, Cranberry & Apple Juice
Blueberry Mojito
Blueberries, Soda Water, Mint, Sugar
Terre Forti Trbbiano Chardonnay, Italy
Light, crisp and easy drinking with lots of citrus flavours.
Petit Papillon Grenache Blanc, France
Delightful and fresh with aromas and flavours of peach and pineapple along with fresh almonds and white flowers. Very refreshing.
Operetto Garganega Pinot Grigio della Venezie, Italy
Fresh and zesty with notes of jasmine and honeysuckle.
Voltolino Gavi, Italy
This wine has a floral fragrance, with a good minerality. It has a round body and good balance.
La Serre Sauvignon Blanc, France
Mouth-watering, refreshing citrus fruit, melon and with a hint of fresh grass.
19.50
20.95
5.25
6.75
13.50
19.50
30.95
6.25
8.35
16.70
24.95
19.50
20.95
5.25
6.75
13.50
19.50
30.95
6.25
8.35
16.70
24.95
Mamaku Sauvignon Blanc, New Zealand
This bright, refreshing Sauvignon Blanc has aromas
and flavours of apples, pears and gooseberries.
Domaine de la Chezatte Sancerre, France
It is a fragrant and refreshing aromatic wine, with white fruit and acacia flower aromas, round and slightly creamy in mouth, with a delicate smokey tint.
Benguela Cove Lighthouse Collection
Sauvignon Blanc, South Africa Quintessential Marlborough. Started a revolution!
IL Banchetto Bianco NV, Italy
Soft, light, dry white from the heel of Italy.
Kudu Plains Chenin Blanc, South Africa
Soft peach and pineapple.
​
28.95
35.95
34.95
4.75
6.25
12.50
17.95
4.95
6.50
13.00
18.95
28.95
35.95
34.95
4.75
6.25
12.50
17.95
4.95
6.50
13.00
18.95
24.95
23.95
4.75
6.25
12.50
18.50
27.95
35.95
4.75
6.25
12.50
18.50
20.95
5.75
7.75 15.50
22.95
25.95
24.95
27.95
35.95
4.75
6.25
12.50
18.50
5.50
7.25
14.50
20.95
23.95
El Colectivo Malbec, Argentina
This wine has the typical deep, dark violet colour of Argentine Malbec. The nose offers intense aromas of black stone fruit interwoven with notes of chocolate and sweet spice. Balanced acidity leads into a long, velvety finish.
Chateau Viramiere St-Emilion Grand Cru, France
This rich, smooth red is full of aromas and flavours of red fruits. Medium-bodied, with fine, savoury tannins, and a pleasant finish.
Mercurey Domaine Agnes Dewe, France
This wine is elegant and delicate, with aromas of red fruits and flavours of ripe black fruits and cherries. The tannins are noticeable but well incorporated into the body of the wine.
Villa Belvedere Amarone della Valpolicella, Italy
This complex wine is full of intense aromas and flavours of raisins, cherries and violets with spicy and balsamic notes. Elegant and smooth, with a lingering aftertaste of toasted almonds.
6.95
8.95
17.95
27.95
45.95
53.95
65.00
6.95
8.95
17.95
27.95
45.95
53.95
65.00
Operetto Garganega Pinot Grigio Blush Veneto IGT, Italy. Dry, soft lots of summer berry fruit.
The Bulletin Zinfandel Rose, USA
Watermelon and strawberry sweets.
Cotes de Thau Rose Secret des Garrigues, France
Wild raspberry and cherry. Elegant and restrained from the home of rose!
5.25
7.25
14.50
19.95
5.50
7.25
14.50
19.95
23.95
5.25
7.25
14.50
19.95
5.50
7.25
14.50
19.95
23.95
FOR THAT SPECIAL CELEBRATION!
Laurent Perrier Cuvee Rose Brut, France
The Rose Champagne. Wild strawberry,
cherry citrus and flowers. Delightful.
Dom Perignon 2005, France
Light and minerally, with prominent
citrus fruit and a long spicy finish.
Baron De Villeboerg Brut NV, France
Pale golden yellow colour with good effervescence. Elegant nose with notes of blossom and yellow fruits. A fresh and generous mouth, fine balance and a long finish with hints of pear.
Veuve Clicquot, Yellow Label, France
A perfect balance between power and finesse, its complexity comes from the predominant presence of Pinot Noir and Reserve Wines.
Laurent Perrier Brut, France
Subtle spice and hints of citrus with warm tasty notes which balance the freshness of the fruit.
5.50
27.00
5.95
28.00
6.20
29.00
£5 SELECTED COCKTAILS
£10 CARAFES OF HOUSE WINES
£15 BOTTLES OF PROSECCO
SUNDAY - THURSDAY 5PM - 7PM
MONDAY & FRIDAY 5PM - LATE
25% HOUSE WINE TUESDAY 5PM - LATE
7.00
7.00
7.50
7.00
7.50
7.00
7.00
7.50
7.00
7.00
7.50
7.50
7.00
7.00
7.00
8.50
8.50
8.50
7.00
7.00
7.00
Black Sheet Ale
Old Moot Cider
Guiness
Becks Blue
Corona
Peroni
Duara Damm (GF)
Becks
Mahou
San Miguel
Poretti
Shed Head
Modelo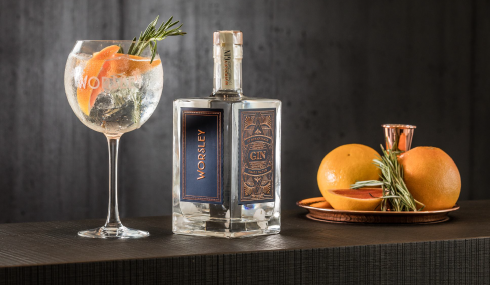 Worsley Gin
Manchester Gin
Brockmans
Hendricks
Chase
Warner Edwards E'Flower Gin​
Warner Edwards Rhubarb Gin
Gordons Pink​
Chase Grapefruit
Tanqueray Export
Tanqueray 10
Bombay Sapphire
Portobello Road
Strawberry Gin
Talisker
10 Year Old
Laphroaig
10 Year Old
Glenmorangie
10 Year Old
Highland Park
12 Year Old
Glenfiddich
12 Year Old
Lagavulin
16 Year Old
Macallan Gold
Bruichladdih
Glenlivet
Haig Club
Bells
Monkey Shoulder
Johnnie Walker
Jack Daniels Honey
Jack Daniels
Makers Mark
Woodford Reserve
Havana Club Especial
Appletons Estate
Salford Rum
Kraken
Sailor Jerrys